PMDi is the global leader in high performance motion control. The platform, Polaris™, demonstrates the highest rates, widest dynamic range, and is arguably the World's Best Motion Control Platform.
Polaris is the leading platform for the control and synchronisation of Servos, Galvos, Lasers and has proven to be ideal for advanced machinery and instrument markets, making it a very successful choice for any industry from aerospace to photonics. Available in the UK from LG Motion.
The Benefits of Polaris Motion Control Components
Higher machine throughput
Better machine accuracy
Higher machine reliability
Shorter engineering development time
A heavy emphasis on research & development is maintained to ensure continuous development and to increase your performance and improve usability. Our mission is to provide you with the technology necessary to dominate your respective target markets.
Brochure Downloads
Polaris Brochure
Polaris CNC Technologies Brochure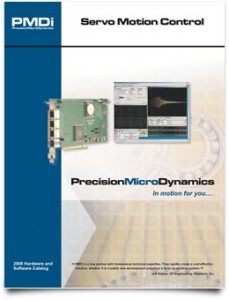 Board Controllers Brochure
Demanding Growth Industries
PMDi serves fast moving growth industries including aerospace, automotive, computer numerical control (CNC), data storage, medical, military, semiconductor, optics and photonics. Within each industry, PMDi strives to offer unique features that enable customers to create clear competitive advantages.
Optics & Photonics
Fastest, most advanced feedback regulators enable Galvano motors to reach their full potential for laser and extreme UV light source applications. Precise integration of servos, Galvos and lasers is achieved using high speed digital logic programming.
Aerospace
Full double precision path planning provides higher resolution and accuracy. Mercury Gbit/s real-time communication protocol substantially increases hardware in-the-loop performance.
Automotive
Mercury real-time communication enables extremely high rates of data collection and storage, for advancing dynamometer performance.
Medical
Customizable path planner and advanced control structuring allows for the implementation of custom kinematics for medical robotics.
CNC Cutting
The highest GCode block rates in the industry are achieved with superior hardware and real-time networking. Motion control technologies specific to routing, waterjets and laser cutting.
Diamond Turning Lathes
Superior form, finish and throughput is achieved using limited jerk and PVT profiles computed in double precision math. Advanced control for air bearings, hydrostatic bearings and spindles.
Semiconductor
Advanced control algorithms provide quick settling time and on-the-fly retargeting, allowing for significantly higher throughput for chip processing. Advanced control of air bearing nanometer positioning stages for wafer inspection.
Please call us to discuss your particular application requirement or a demonstration.