We have recently completed the delivery of an 9-axis scanning-arm motion system including an elevating scanning frame which will help evaluate and develop a novel ultrasound breast screening technique as part of an Innovate UK funded collaboration headed by the National Physical Laboratory (NPL).
The motion system, which is submerged in a water tank, positions and rotates an ultrasound transmitter array and novel receiver around the breast with the resulting scan processed through tomographic reconstruction to build a 3D image of the tissue characteristics.
Simply put, the technique known as ultrasound computed tomography (UCT), has promising potential to overcome the problems of diagnosing breast disease using conventional X-ray mammography and ultrasound scans.
NPL have optimised pyroelectric sensors developed by another collaborating partner – Dorchester based SME Precision Acoustics – employing a patented detection method which converts the ultrasonic energy into heat then generating electrical signals which are processed to form the ultrasound image. Of the many advantages offered by UCT, the new ultrasound method will be safer and lower cost than currently-used screening techniques, is less invasive and the results are easier for clinicians to interpret.
Working closely with NPL scientists and keeping costs to a minimum to meet budget, LG Motion designed the positioning system based on its durable and submersible Unislide positioning elements with additional custom-engineered axis mechanics and other support parts. Customisation included anodising the standard aluminium stage parts for extra protection, using non-ferrous materials such as stainless steel leadscrews and fastenings, and employing IP68 rated submersible stepper motors for all motorised axes.
The positioning system is a combination of manual and motorised elements. A handwheel driven dual-axis linear positioner which shares two moving table tops on the same linear bearing is used to pre-positon the separate ultrasound transmitter and receiver which are each mounted on vertical motorised axes. To finely pre-align the array the transmitter stage positioner includes a horizontal cross axis whilst the receiver positioner stage also supports a custom-designed motorised tilt axis with a 30 degree, range, which is continuously adjusted in-situ to maintain a perpendicular geometry for the sensor.
A separate motorised scissor jack vertically positions a special electromagnetic locator tool that senses and references the position of a fundamental component used in the UCT scanning process. The complete assembly is mounted on a stepper-motorised precision grade rotary table with additional sealing and IP68 protection. The basic scanning procedure comprises a scan-step sequence rotating the complete assembly through +/- 180 degrees whilst extending the sensor array vertically, in small increments up to 120 mm. The overall positioning repeatability of the complete scanning arm is within 0.05 mm.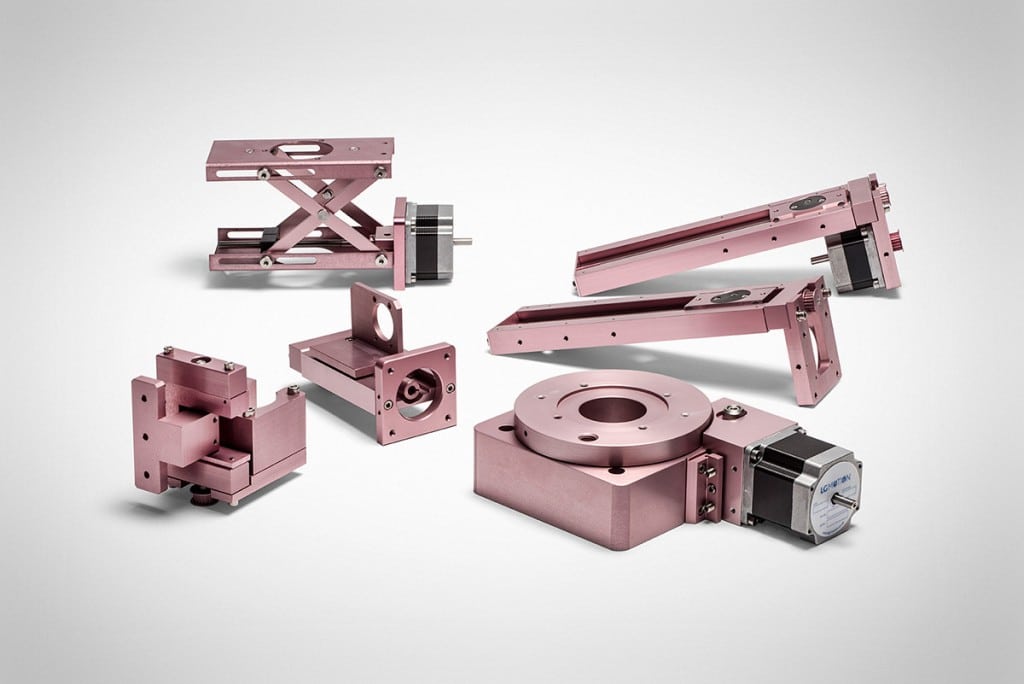 A 19 inch subrack motion control and drive system powers the motorised elements of the scanning arm which has a total of six stepper-motorised axes. Its combination of 3A and 8A microstepping drives and two 4-axis PMS series motion controllers, from LG Motion's USA distribution partner Arcus Technology, allow NPL to program motion sequence and synchronisation routines using the powerful controller's BASIC-like standalone programming language that is networked with their own host control system through a 10Mbps Ethernet communication link.
The PMS controller was selected to allow NPL complete flexibility to accommodate potential future motion control upgrades – for instance adding encoders for position feedback or high speed registration or synchronisation of position moves and I/O.
All of the positioning elements are contained in a water tank of approximate volume 100l which required the motion system to be fairly compact. Cable management for motors, stage overtravel limits and home switches allow adequate flexibility so as not to drag the mechanics during scanning.
As part of the scope of supply, we also designed and supplied the water tank and an automated 'elevator assembly' that supports and lifts the tank and the scanning arm assembly into its scanning position over a 500 mm travel range.
The floor mounted elevator assembly is based on machine frame components from MiniTec UK Ltd – a close collaborator of LG Motion, who have worked in partnership on several projects over many years.
The elevator assembly includes a stepper motor driven hydraulic lift mechanism with a pump and four vertically arranged cylinders that drive a cradle supporting the scanning tank. The pump motor and the direction valve system is controlled from the Arcus drive rack. Again, in keeping with the potential need for upgrade or modification of this development system, all the MiniTec components are as-standard and thus are easily modified to accommodate future developments. The tank is supported on an anti-vibration platform which was considered important to minimise potential ground-borne disturbance and reduce noise during operation.
The complete assembly was commissioned at NPL and will be moved to University Hospitals Bristol who are also a collaborating partner on the Innovate UK funded project along with North Bristol NHS Trust and the creative design consultancy, Designworks. Further details about NPL's work in ultrasonics can be found at http://www.npl.co.uk/science-technology/acoustics/ultrasound