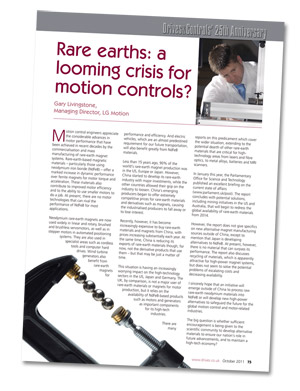 LG Motion Managing Director Gary Livingstone is self-professed champion of UK Manufacturing and has recently launched his own "Gary Livingstone" website to discuss challenges and opportunities that face the UK manufacturing sector, amongst other things.
One of his recent articles – Beware China's dominance for rare earth materials used in motion control – was recently picked up and featured in Drives & Controls, a leading UK magazine motion control.
You can read the published article by downloading the PDF – Rare earths: a looming crisis for motion controls?