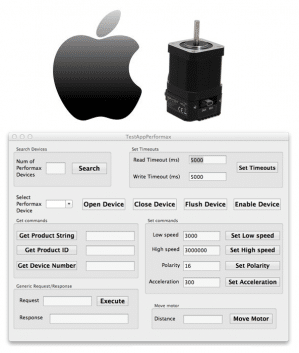 Arcus Technology has released a software library that allows Mac OS systems to communicate directly to DMX, PMX and ACE products via USB.
This package enables Mac OS developers to create Arcus control applications without a serial to USB bridge. Mac OS integration with Arcus USB motion products will now be a seamless process.
What's Included:
The following items are included in the Mac OS Driver package
Mac OS USB driver API (Cocoa Library)
Executable GUI implementing the USB API
Source code for the GUI (Cocoa)
Documentation explaining the USB API, GUI and source codes
One-click installer to install all necessary components
Arcus Product Offering
The user-friendly programming language (A-SCRIPT) makes Arcus products one of the easiest stepper controllers to integrate into an automation system and the BASIC-like language is very intuitive, which eliminates the need for software experience to program it.
Arcus Controllers support multi-tasking, which allows you to run up to 2-4 standalone programs simultaneously.
In addition to the Mac OS library, LabVIEW, VB, VB.net, C++, C# as well as other common software examples are also available.
LG Motion supply and utilise a wide range of Arcus Technology products for end-user motion control solutions as well as on demand supply for integrated systems.
[do action="generic-footer-cta"/]
The Low Cost USB 4-Axis Controller Tutorial