We are a leading developer of bespoke large-scale digital photography and multi-spectral imaging solutions for art galleries around the world.
Large-scale art scanning solution
The LG Motion art scanning solution is a revolutionary technology that moves over works of large artworks, surveying and gathering digital data and producing ultra-high resolution images with extraordinary detail and clarity.
It is used in galleries around the world to catalogue and review high-value and historic artworks of all sizes.
In minutes, huge areas can be scanned and preserved in visible spectra, Infra-Red and UV – often revealing fascinating, never-before-seen features from the original masterpiece.
Make your collections available digitally.
Preserve your art collections by scanning them at the highest possible resolution.
Reduce future handling and disturbance.
Output meta-data to your database, triggering events to match your device for faster and easier data extraction.
A uniform scale throughout the whole image allows accurate measurements to be made over the entire artwork.
This colour image is a portrait of Sir William Fitzwilliam after Hans Holbein (courtesy of the Fitzwilliam Museum, Cambridge).
These images show the original piece alongside an IR infrared spectra (IR) which shows the underlying image.
These images have been created from around 400 tiled images using the art scanner system.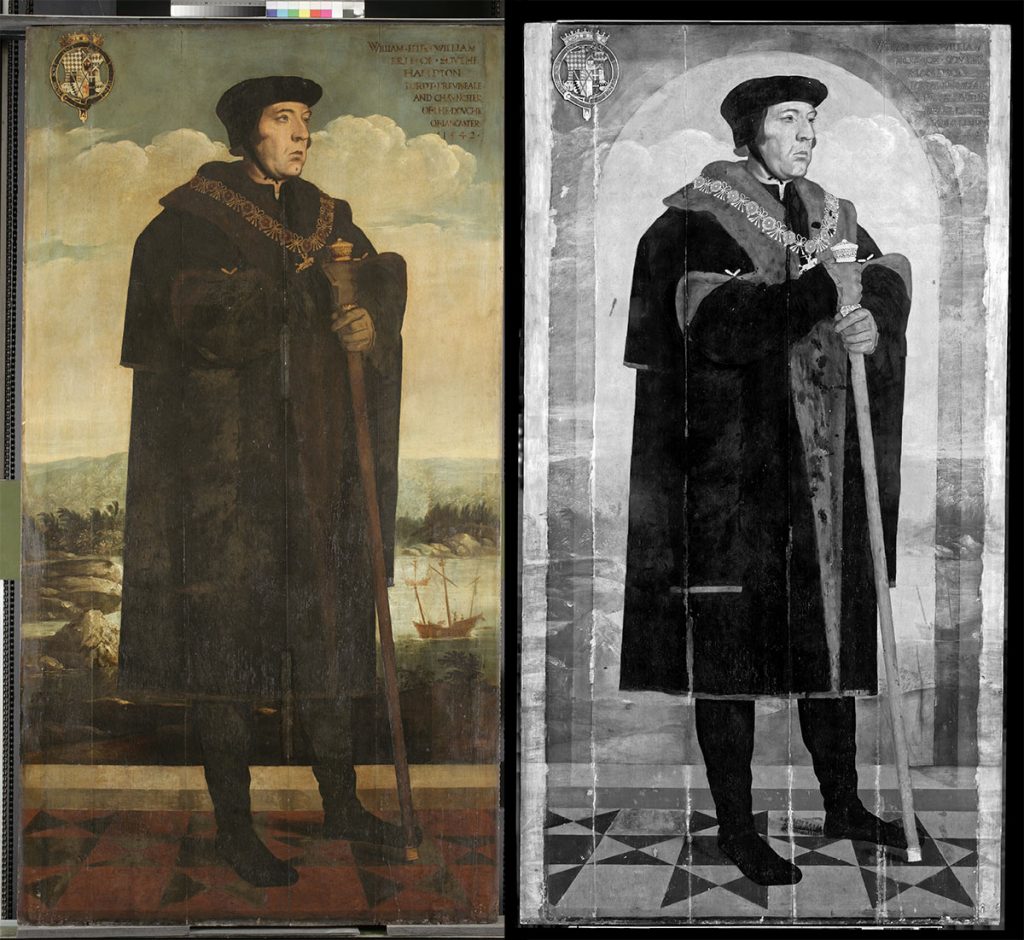 Our art scanning solution is ideal for photography, art and scientific teams within galleries and museums, as a range of devices can be utilised to capture details information about your artwork.
A combination of incredibly accurate automated motion control equipment with state of the art software provides automated capture and assembly of multiple fields of view to generate extremely high-resolution images.
Multiple images are created across the artwork at precisely monitored positions. These are passed to the bespoke SatScan software, which automatically stitches the images to produce a high-resolution output for the whole image.
The intelligent stitching algorithm is able to stitch adjacent fields accurately, even with very little visible data present within the images, and produces an incredibly high-resolution image over the whole painting.
Perfect image tiling for large-scale artwork
1:1 replication – no digital distortion
Digital camera photography
Spectral imaging – IR, UV, X-ray
Our customer art scanner units are in use in prestigious art galleries around the world.
If you are looking for a dedicated partner to work alongside for your electro-mechanical motion project, get in touch.
We'll work with you to develop the best solution for your specific challenge, no matter how complicated.
Arrange a visit and meet the team: