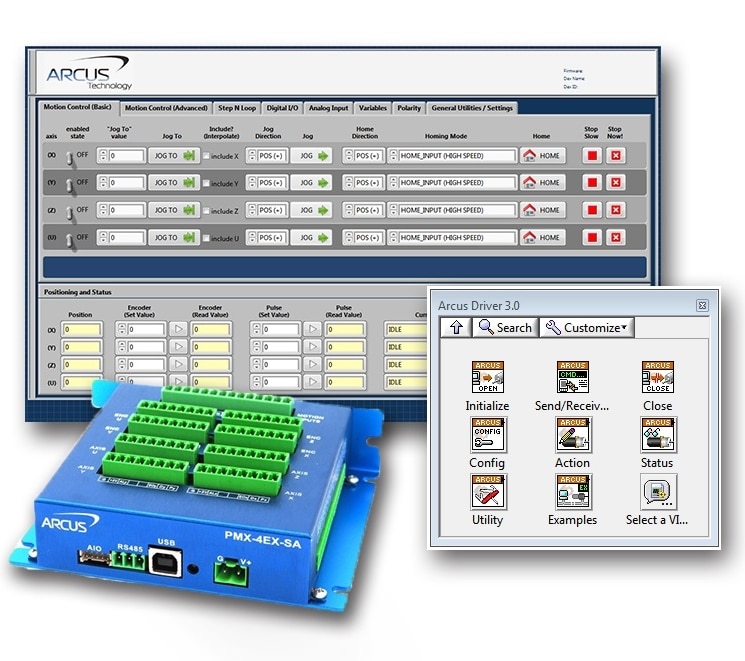 Arcus Technology has released a new LabVIEW Driver for the PMX-4EX-SA, a 4-axis stepper controller.
The driver package enables even the novice LabVIEW developer to swiftly create their own functional LabVIEW applications.
The additional functionality available is ideal for scientific and research applications in Laboratory Automation, Liquid Handling, Microscopy, Metrology and Photonics.
The Driver comes with
Application Note: The documentation for the Arcus Technology LabVIEW driver by KOD Integrations. The app note will provide all the required information for using and understanding the Arcus LabVIEW Driver.
LabVIEW Driver: Contains source code for the PMX-4EX-SA utility panel, as well as LabVIEW source code for other Arcus Technology products.
Multi-axis Utility Panel: Contains the PMX-4EX-SA utility panel. Allows initial testing of the controller and it's available operations.
Compatibility
The sample is designed specifically for interfacing with Arcus' PMX-4EX-SA over USB 2.0 communication
This driver will require 32-bit LabVIEW 2014
[button link="http://www.arcus-technology.com/support/downloads/download-info/kod-labview-source-utilities/"]Download Arcus LabVIEW Package[/button][button link="http://www.arcus-technology.com/support/downloads/download-info/pmx-4ex-sa-manual/"]See The PMX-4EX-SA Manual[/button]
[do action="generic-footer-cta"/]