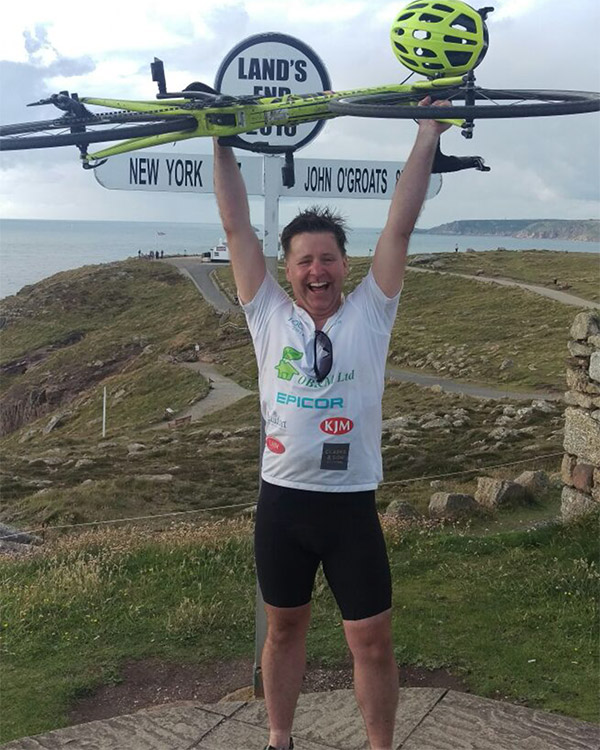 LG Motion Managing Director, Gary Livingstone, recently helped raise almost £50,000 for The Ark Cancer Centre in Basingstoke after cycling nearly 1,000 miles from John O'Groats to Land's End.
Gary braved the 10-day cycle across the length of Britain with a group of friends and associates having been persuaded to join the challenge over a drink last September with good friend and fellow Basingstoke entrepreneur Craig Killick.
After 10 months of training, a group of five embarked on the 1000 mile JOGLE16 challenge, as the trip became known, which also included a detour via Basingstoke to pick up a further eight friends for the final 300 miles.
Gary said:
"I went out one night for a drink with my friend Craig who told me cycling from Land's End to John O'Groats was on his bucket list and by Saturday morning I was doing a bike ride across Britain!

"I bought my first bike in September and I hadn't really cycled before so this challenge was pretty tough – 10-days, 100-miles a day and up to nine-hours on a saddle – but very much worth it.

"Cancer touches so many families and all of us taking part in JOGLE16 wanted to do something to help make this much needed local centre a reality.

"It was good fun too and we're incredibly grateful for all the support."
But the trip wasn't without incident – of the five who started out in Scotland, one cyclist had to pull-out after the second day with an ankle injury. The team also suffered a total of seven punctures, a couple of snapped chains and one broken gear cable.
But all were immensely proud – and exhausted – when they were joined by eight further cyclists in Basingstoke and a total of 12 cyclists crossed the finishing line on July 12th.
Gary, who remarkably managed to complete the challenge unscathed, except – in his words – for certain memories, said:
Three days of headwinds and skin-shredding rain in Scotland; the Hobbit hut accommodation at Glencoe which has to be experienced to be believed; spectacular scenery in the Lakes and Scotland and the sharp climbs in Devon and Cornwall; all will stay with me for a while!

Would I do it again? No! But maybe something on the continent next time and not on Britain's roads which are terrible… I'm thinking nice flat roads and some warm weather!"
By the end of the trip JOGLE16 had not only smashed their own personal goals but at the last count had raised over £48,139 for the much-needed cancer treatment centre in north Hampshire to be built by Hampshire Hospitals NHS Foundation Trust.
The Ark Cancer Centre Charity is hoping to raise £5million towards the project which will offer conventional and supportive cancer care for local people.
Any further donations to Gary and the JOGLE16 riders can be made at:
https://www.justgiving.com/fundraising/Gary-Livingstone1