Dorset based inrekor Ltd has recently developed an innovative structural sandwich panel technology  utilising a large frame gantry positioning system, manufactured and supplied by LG Motion Ltd.
With far reaching potential for lightweight and low-cost vehicle chassis and many other structural frame applications across all industries, the high strength to weight ratio inrekor® panel can be applied to small and large scale manufacture with minimal tooling investment.
The finished panels are assembled and bonded to form final three-dimensional structures using a patented process that guarantees exceptional rigidity. These panels, based upon an ARPRO® core material with external layers of steel or aluminium, offer geometric strength of up to ten times that of traditional honeycomb panels with considerable advantages in cost, design flexibility and ease of manufacture.
Reflecting the design possibilities and the production-volume flexibility of the inrekor system, the external metal surfaces for two-dimensional panels are typically manufactured using the latest water jet or laser cutting methods; for high volume production, punch-pressing these skins can be extremely cost-effective.
ARPRO cores can be supplied in flat sheet form or specially moulded for large scale production. inrekor also supply fully assembled three-dimensional assemblies or 'flat-pack' panels for customers to assemble on-site. The technology is fully transferrable for Tier One automotive manufacturers to use directly for high volume production.
Joining these materials together to ensure optimum peel and tear strength is a critical process and inrekor has developed an automated plasma bonding technique that employs a large frame gantry positioning system, manufactured and supplied by motion control and machine building specialists LG Motion Ltd. The atmospheric pressure plasma treatment activates the surfaces to be bonded prior to the application of the adhesives and the lamination is completed using a separate high pressure cold press.
As part of the requirement specification for the gantry system, inrekor requested that flexibility was built into its design in terms of both motion control and mechanics to allow the machine to be adapted, if required, to suit the diverse production levels that the sandwich panel system offers.
As supplied, the LG Motion motorised gantry supports and positions the plasma head over the panel bonding area where flat sheets of core or skin material are supported on a wire-mesh bed. The vertical height of the plasma head is adjusted with a handwheel operated Z-axis stage and panels up to 3 m x 2 m may be processed using a simple PC programmed raster scan where the width of the plasma beam is tracked over the entire surface to be treated.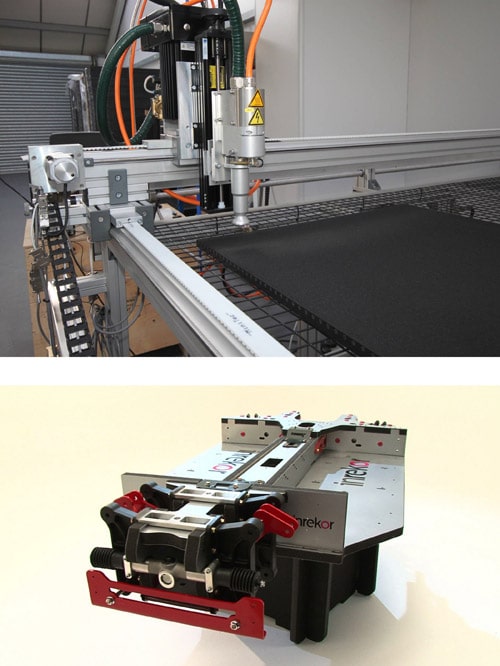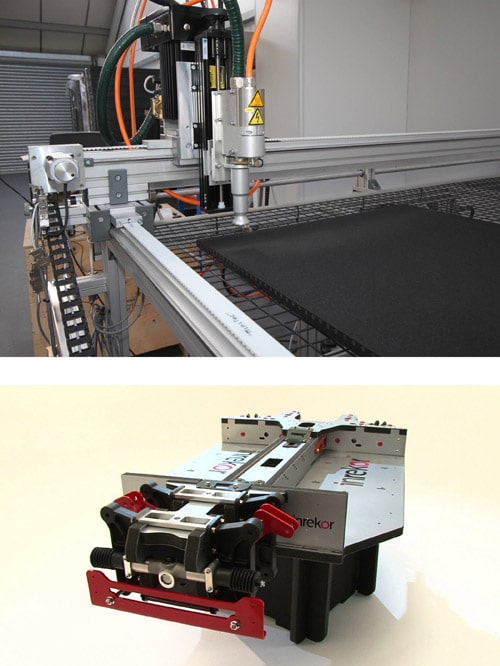 Using belt-driven linear actuators and Profile System machine framing components from LG Motion's associate MiniTec UK Ltd, the lower X-axis is comprised of two parallel coupled actuators to prevent axis crabbing and supports a single Y-axis linear actuator for the 2 metre span. Motorised axes are open loop stepper motor driven, with in-line gearboxes for increased torque output. Motors are fitted with rear shaft knobs that allow operators to manually move the plasma head if required. Both X and Y axes include chain-type cable management and are fitted with over-travel limit switches for safety and datum switches for homing the gantry before the automated scanning process begins. A simple stepper motor control and drive system allows the operator to set-up individual axis sequential moves using a basic like programming language.
Future mechanical modifications, all made straightforward with the modular MiniTec linear actuators and Profile System, include adding rotary encoders to stepper motors to provide 'position verification' for improved position control, or to replace steppers with servomotors to allow more precision with higher scanning speeds. Control upgrades could be met with higher level motion controls that would permit compound X and Y moves for contoured positioning of the plasma head with the possibility to include GUI programming of complex shapes using customer supplied CAD data. Using controller I/O the plasma process could also be extended to control the plasma source as well as the Z-axis and include adhesive dispensing – further advancing and speeding the entire  process.
LG Motion application engineers worked closely with inrekor Ltd from the outset of the project and provided assistance with motion programming as well as installation.
The photographs show a typical inrekor chassis and the LG Motion gantry showing the plasma head above an ARPRO® panel core.