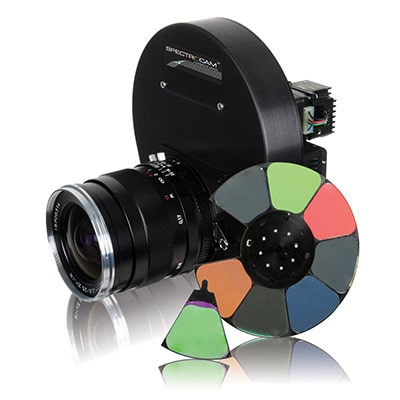 LG Motion, now offers a complete microstepping motor + drive + control + encoder package based around the diminutive NEMA 11 size stepper motor with a 28 mm square housing and length of just over 70 mm for the triple stack motor version.
The DMX-K-SA-11 is the smallest combined unit available to industry. The distributed motor, driver, controller and encoder solution delivers 0.17Nm stall torque and is a true plug and play package for simple installation. Usability is further enhanced with free of charge intuitive multi-tasking motion programming and set-up software.
With miniaturisation a key factor in many life science and research related applications, the DMX unit is ideal, with its compact size and high torque to size performance.
A recent application for a film camera equipment manufacturer allowed the installation of the tiny DMX-K-SA-11 package to drive and position a miniature video camera that required precise run and repeat motion sequences in very confined spaces. The compact unit proved a perfect solution to fit into the tight space available. The microstepping smoothness, with almost no vibration and excellent repeatability, provided impressive multiple pass visual effects.
In another application a multispectral digital still camera lens system was developed. The unit rotates interchangeable colour-transparent screens for use in forensics, biological identification and many other life science areas where the compact size and cost for commercial use is important. (see image).
The DMX-K-SA-11 features RS485 communication and opto-isolated limit and home inputs with a single digital output. The BASIC-like programming language simplifies high resolution position control with microstepping in combination with an integrated 256 line incremental encoder.
Also available are NEMA 17 and 23 frame size versions of the DMX-K-SA offering increased torque with additional digital I/O that may be used for high speed position capture and event synchronisation. A 4000 count/rev encoder allows fine resolution, whilst a 'stepNloop' feature provides a closed loop algorithm for high repeatability and accurate positioning.
Other variants of the Arcus Technology DMX series offer a further choice of communication interfaces including USB 2.0, CANopen and Ethernet. Modbus RTU is also supported.
LG Motion also offer evaluation kits based on the DMX-J-SA series as a NEMA 17 frame integrated microstep motor + control + drive for USB 2.0 with everything required to run and evaluate a single axis motion system.