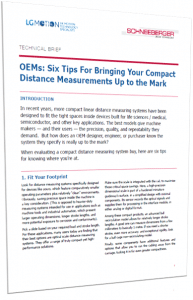 In recent years, more compact linear distance measuring systems have been designed to fit the tight spaces inside devices built for life sciences / medical, semiconductor, and other key applications. The best models give machine makers — and their users — the precision, quality, and repeatability they demand.
But how does an OEM designer, engineer, or purchaser know the system they specify is really up to the mark?
Our brief offers six tips for knowing where you're at when you're evaluating compact distance measuring systems.